Hunting & Fishing
Licenses Online
Upcoming Events and Reminders


If something looks out of date on the website, trying refreshing your web browser. Chrome, Firefox, or Edge for Windows: Press Ctrl+F5 (If that doesn't work, try Shift+F5 or Ctrl+Shift+R).

The Town of Stetson's Fire Department is presently covered by the Town of Levant and Northern Light Rescue.

Danielle Withee is the ACO 207-745-1130

Selectmen's Meetings: 2nd & 4th Wednesday of each month. We thank the regulars who come to the Selectmen's meetings and appreciate your questions and participation,

Tuesdays Trash Pickup

Trash must be out for pickup by 6:30am Tuesday mornings.

Upcoming Events

The Town office will be closed Friday, November 10th, 2023 in observance of Veteran's Day.

Proper procedure if finding a stray animal:

Please contact Danielle Withee, ACO instead of posting on Facebook. This ensures the pet/animal gets the proper care and/or attention needed, whether it be reunited with the owner or taken to the animal shelter. Thank you.

Code Enforcement Officer will be in his office
Thursday from 5 pm -7 pm
Please walk past the Town Office and down the hallway to his
office . He will assist you with Building & Plumbing Permits.

Planning Board Meetings: 3rd Thursday of each month as required. Town Office Complex 7:00pm

The Corinth Transfer Station will no longer be accepting recycling from the residents of Stetson. They were willing
to take recyclables ONLY. Because residents abused this privilege and started taking things unable to be recycled such as household trash, our residents will no longer be able to take
recycling or anything else to the Corinth Transfer Station. Any questions, contact a member of the Board of Selectmen.

Town of Stetson is seeking:

PLANNING BOARD COMMITTEE MEMBERS
BOARD OF APPEALS COMMNITTEE MEMBERS
EMERGENCY PREPAREDNESS COMMITTEE MEMBERS
PARKS & RECREATION COMMITTEE MEMBERS


If interested contact Stetson Town Office 296-3232

Assessing Agent
Danielle Davis
1st Wednesday of the month
8:00am to 3:30pm
296-3232

If you wish to request Vital Statistic Records at Town Office
( birth – death - marriage)
(please bring proof of ID and linage)
Stetson Town Office is located at: 394 Village Road
Stetson Town Office mailing address is: P.O. Box 85 Stetson, ME 04488
( misaddressed mail will be returned to sender by the post office )
If you need information about General Assistance or need to apply CLICK HERE.
Selectboard News
Hello, Stetson residents! It sure was a unique summer we had. A lot of rain where we wondered if we
would ever see the sun, some heat and humidity. Now we are moving into fall, cooler temperatures, the
thoughts of cold, snow and ice, and how we are going to heat our homes.
Regarding rain, let us talk about the dam and the lake levels, shall we? There is a system in place. It has
been in place for years. There is a town resident who, he and his son, have taken care of the dam
regarding opening and closing it and when that should be done. He has a marker on his property. When
the lake gets to the marker, he or his son opens the dam. When the water level recedes away from that
marker, he or his son then closes the dam. With the amount of rain we have gotten, some of you have
lost some of your lakeside lawn. Some of you have even gone so far as to take matters into your own
hands with pry bars, hammers, rocks, screwdrivers, or who knows what, to attempt to remove the
padlocks in place at the dam to open or close them. Guess what? Your tax dollars and everyone else's
are going to replace those locks. Those are not cheap, inexpensive dollar store locks either. We are also
going to have to do some work on this dam. Danielle Davis has a call into DEP regarding the process of
how this work needs to happen. The system is in place. It works. It has worked for years. If you have a
concern regarding the level of the lake, please pick up the phone and call the Town Office or one of your
selectmen. We can reach out to the residents who monitor the dam. Please refrain from taking matters
into your own hands and attempting to remove the padlocks.
We will now discuss the trash situation. Yes, it was an adjustment. A new contractor. Some changes
regarding the route of pick-up. Our new contractor, Doug's Disposal/Trashbusters, comes in from
Charleston. Therefore, his route will be different than Sullivan's Waste Disposal was. It doesn't make
his route wrong or backwards. It works for his company. Trash needs to be bagged and put out beside
the road by 6:30 a.m. no matter what time you think they should be there. They are not responsible for
picking up the trash around your barrel or bags that the animals or crows have chosen to disperse
because there may be something yummy in there and they wanted access to a free meal. If your bag gets
ripped open while Doug's is picking it up, you are either using dollar store bags or loading your Hefty
bags too heavy for what the bag is designed for. Please bag accordingly. If you use a trash can, trash
must be bagged before being placed into the trash can.
Continuing with trash, the Town will be having a Fall Big Trash Day again this year. This will be held
Saturday, October 21, 2023 from 9:00 a.m. to 2:00 p.m. at the Town Office. There will be a list of items
posted on the Town website on what is acceptable and unacceptable. For those who do not use
computers, you are more than welcome to reach out to the Town Office or one of your selectmen to determine what can go and what cannot. Just a friendly reminder if you cannot or do not want to wait for
the annual Fall Big Trash Day you can take your items to the Newport Transfer Station. Again, yes there
is a fee for that. Yes, there is a list of acceptable items. No, this is not a contractual or agreed upon
service between our town and the Newport Transfer Station. They open this service to all towns. Before
you think, "Well, I'll wait for the Fall Big Trash Day because that is free." No, that is incorrect as well.
We apply this cost in the budget and your tax dollars pay for that.
Now that we are slowly adapting to the changes of trash, we have a new change coming. The plowing
and sanding contract has been awarded to a new contractor for our town, Patriot's Landscaping and
Construction. Please give this company a chance. If you have a complaint that a road hasn't been sanded
or plowed, once again contact the Town Office or a selectman. That's what we are here for. Social
media is not a place for complaints although some of you seem to think differently.
Okay, now we will move onto technology. There is a program available called Affordable Connectivity
Program (ACP). This program is a $14.2 billion federal program helping families and households who
are struggling to afford the internet. This program will provide those eligible with a discount of up to
$30 per month on the cost of internet as well as a one-time $100 discount for a laptop, desktop
computer, or tablet. Very few have utilized this program probably because very few know about this
program. Now you know. If you think you qualify, by all means apply. There are two websites for this,
getacp.org or tdstelecom.com.
For some more news, a new FCC program just came to light called Enhanced ACAM. TDS has been
involved in two ACAM projects in the past. The end result of all of these grants and programs is that
TDS is likely going to go with the Enhanced ACAM. This means that all of the communities TDS
serves that does not get 100/20 speeds will be fiber. The election of this project will be made October 1
and its effective date is January 1, 2024. Initially there was discussion of grants such as Connect the
Ready. The downside is a company may or may not get the grant. With the Enhanced ACAM, there is a
certainty for companies that elect it. Long story short: Stetson will be getting fiber!! It's not a maybe
with this, but if elected, it's a guarantee!! TDS is still waiting on terms from the FCC but let's still keep
our fingers crossed.
There has been some talk regarding the LS Power project. Unfortunately for everyone involved, it was
NOT well-known until this past July when Town Officials and landowners received letters regarding the
LS Power project. This is a 345kv transmission line running from Aroostook to Lincoln counties with
the potential route running through the east and south parts of town. Public open house meetings were
held providing the information that can be found on their web site, http://www.lspgridmaine.com. On
their website under documents you can find the information from those meetings and maps of the
potential route. If you cannot access the maps from the website, there are large maps on the wall at the
town office. At this time, we only have the information that can be found on their website. Landowners
should fill out and return the landowner's questionnaire and voice their concerns before the project
moves forward.
We know it is really early to be talking about Christmas (yes, some of you start thinking about
Christmas coming December 26 of the prior year!). Last year, the Town Office, through donations and
not using tax dollars, implemented a last-minute-let's-do-this! program for our senior citizens and kids.
The Town Office and The Food Cupboard received wish lists from these residents, compiled baskets of
goodies and 2 selectmen then delivered these baskets of goodies to those families. We will be doing this
program again. If you are interested in donating money, shopping for items on a person's or family's
list, know of a family or senior citizen who would benefit from this, or are a family or senior citizen who
would benefit from this, please contact the Town Office, a selectman, or the Food Cupboard. The
deadline for these will be December 15, 2023. We will state, here and now, the families and senior citizens are confidential. So please do not be embarrassed about submitting a wish list.
Finally, RSU 64 is looking for people willing to work in the school as Educational Technicians as well
as other positions. If you are interested in a position or want to know what's available for employment,
please visit servingschools.com or reach out to the Superintendent's office.
We know this was a lot of information. There is a whole lot more we are working on. It's always stated
but you are ALL welcome to attend selectmen's meetings. If you do not want to attend in person, we
have a ZOOM option. Until the cold of January when we do this all again, have a safe and enjoyable
Fall and Happy Thanksgiving and Happy Holidays.

Respectfully submitted, The Board of Selectmen

NOTICE
New Hours for Window Service at the Stetson Post Office
Facility Retail Hours
Monday – Friday
8:00am to 12:00pm
Saturday - 7:30am to 11:00am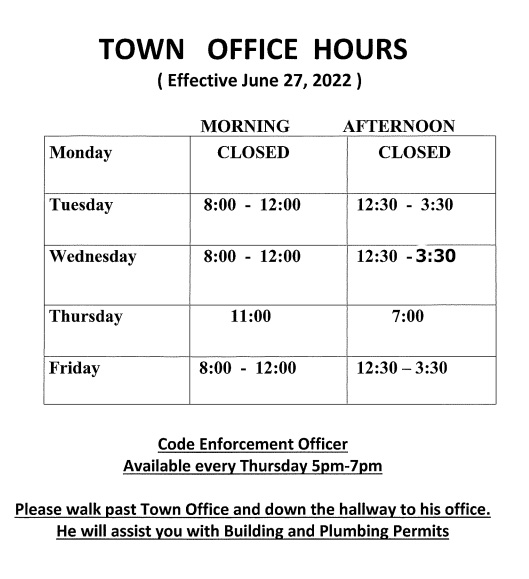 STETSON WEATHER