Hunting & Fishing
Licenses Online
Upcoming Events and Reminders


If something looks out of date on the website, trying refreshing your web browser. Chrome, Firefox, or Edge for Windows: Press Ctrl+F5 (If that doesn't work, try Shift+F5 or Ctrl+Shift+R).

The Town of Stetson's Fire Department is presently covered by the Town of Levant and Northern Light Rescue.

Danielle Withee is the ACO 207-745-1130

Selectmen's Meetings: 2nd & 4th Wednesday of each month. We thank the regulars who come to the Selectmen's meetings and appreciate your questions and participation,

Tuesdays Trash Pickup

Trash must be out for pickup by 6:30am Tuesday mornings.

Upcoming Dates

Proper procedure if finding a stray animal:

Please contact Danielle Withee, ACO instead of posting on Facebook. This ensures the pet/animal gets the proper care and/or attention needed, whether it be reunited with the owner or taken to the animal shelter. Thank you.

Code Enforcement Officer will be in his office
Thursday from 5 pm -7 pm
Please walk past the Town Office and down the hallway to his
office . He will assist you with Building & Plumbing Permits.

Planning Board Meetings: 3rd Thursday of each month as required. Town Office Complex 7:00pm

The Corinth Transfer Station will no longer be accepting recycling from the residents of Stetson. They were willing
to take recyclables ONLY. Because residents abused this privilege and started taking things unable to be recycled such as household trash, our residents will no longer be able to take
recycling or anything else to the Corinth Transfer Station. Any questions, contact a member of the Board of Selectmen.

Town of Stetson is seeking:

PLANNING BOARD COMMITTEE MEMBERS
BOARD OF APPEALS COMMNITTEE MEMBERS
EMERGENCY PREPAREDNESS COMMITTEE MEMBERS
PARKS & RECREATION COMMITTEE MEMBERS


If interested contact Stetson Town Office 296-3232

Assessing Agent
Danielle Davis
1st Wednesday of the month
8:00am to 3:30pm
296-3232

If you wish to request Vital Statistic Records at Town Office
( birth – death - marriage)
(please bring proof of ID and linage)
Stetson Town Office is located at: 394 Village Road
Stetson Town Office mailing address is: P.O. Box 85 Stetson, ME 04488
( misaddressed mail will be returned to sender by the post office )
If you need information about General Assistance or need to apply CLICK HERE.
Selectboard News
Happy summertime from the Board of Selectmen. We would like to congratulate the following elected officials: Millard Butler and Jody Lyford to the Board of Selectmen and Jodi Brasslett to the School Board. We would like to take the time to thank Danielle Withee for her service on the Board. Also passing during the election was the annual school budget. Because there were no State or Federal elections, we saw a very minimal voter turnout.
The Board successfully survived another Budget Season. With the increasing cost of everything, we worked diligently to pinch pennies and keep the budget as tight as possible. Therefore, you should see only a slightly painful increase in your tax bill.
We had several bids go out. The annual municipal and cemetery, as well as roadside, mowing contracts went out and were awarded. Another contract up this year was the curbside trash collection. This was awarded to Doug's Disposal/Trashbusters out of Charleston. Although we expect minimal issues during this transition, please be patient with them as they adjust to our Town's needs and requirements.
While we are on the subject of trash, let's discuss the tossing of appliances, toilets, furniture and/or household trash into ditches, brooks or on property that does not belong to you. We are sure you are aware, but in case you are not, this practice is not only unethical and seriously frowned upon but is also illegal. We ask that you refrain from doing this and also realize that non-residents may also be the culprits. We are also requesting that you keep your eyes open for people who practice this behavior. Attempt to get descriptions of people, vehicles and, if at all possible, a plate number. Report this information to law enforcement or, if you prefer to go another route, the Town Office, or an elected official.
The Town of Newport has a transfer station and has generally opened this to all non-residents of Newport for the disposal of certain items, NOT household trash, for a minimal fee. Again, it will be repeated: this is open to all non-residents of Newport and is NOT an agreement or contract entered into by our Town. There is a list of acceptable items as well as hours of operation and fees on their website. Another option to save your time and energy of loading unacceptable items and driving to Newport is to pick up your phone and call them at 368- 5077.
We will now end with the usual mantra of requesting your attendance at Selectmen meetings. Bring us your suggestions and ideas, even your complaints and opinions (respectfully, of course). We welcome your voice. After all, it is your, as well as our, taxpayer dollars that keep our Town moving forward.
Enjoy your summer, have fun, and keep it safe.
Respectfully submitted, The Board of Selectmen

NOTICE
New Hours for Window Service at the Stetson Post Office
Facility Retail Hours
Monday – Friday
8:00am to 12:00pm
Saturday - 7:30am to 11:00am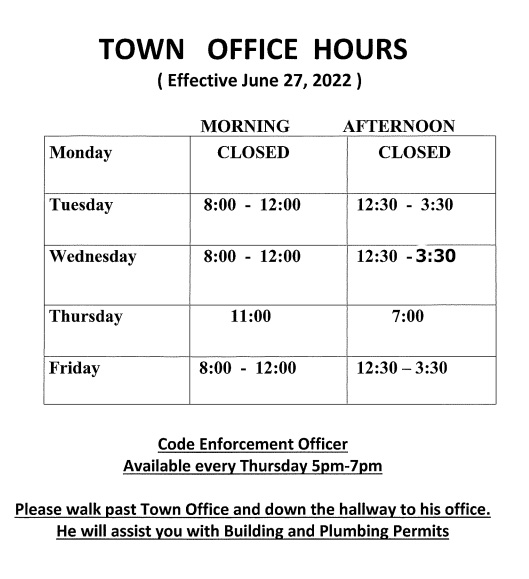 STETSON WEATHER